Focused Alpha Fund
Mandate
Canadian Long Short Equity
Inception Date:
February 2021
Fund Codes:
Class F NEW 501
Class G NEW 503
Class C NEW 507
Management Fees:
Class F 1%
Class G 2%
Class C 0.75%
Performance Fee
15%
Liquidity
Daily
The NewGen Focused Alpha Fund is an opportunistic long biased equity strategy that merges trading and fundamental analysis with a targeted annualized return of 10-15%. The strategy seeks to identify market dislocations and alpha opportunities in the extremely inefficient Canadian equity market through an active management strategy which positions around definable catalysts / events.
The fund targets absolute returns from 25 core long and short positions and is defensively positioned to reduce correlation to equity markets. The fund maintains a high level of portfolio liquidity to manage downside volatility and has the ability to de-risk quickly in periods of market disruption to protect capital. In addition, the fund's alpha short positions provide further downside protection and opportunity for return generation.
NewGen Focused Alpha: Growth of $10,000 Since Inception (Class C)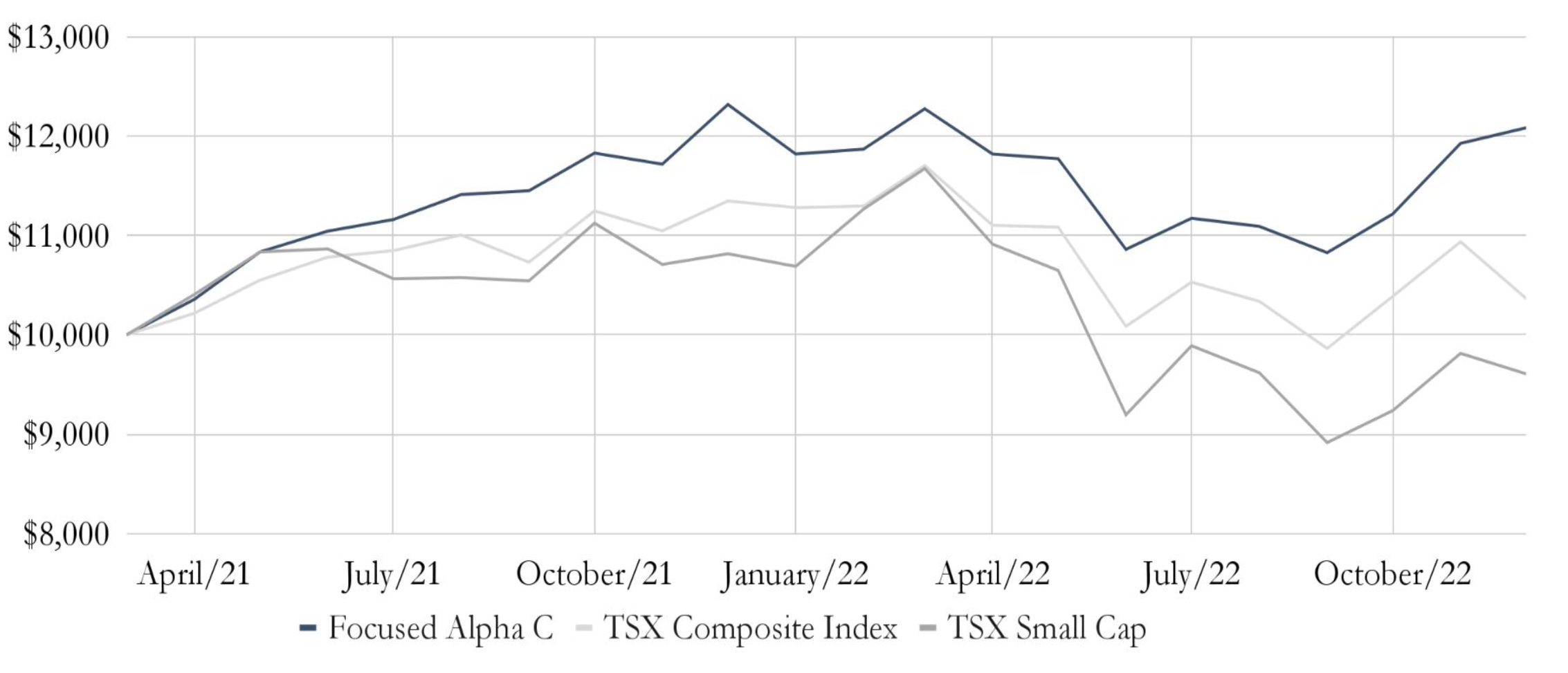 NewGen Focused Alpha (Class C)
Jan
Feb
Mar
Apr
May
Jun
Jul
Aug
Sep
Oct
Nov
Dec
YTD
2021
Focused Alpha C
3.58%
4.61%
1.94%
1.06%
2.25%
0.34%
3.31%
-0.94%
5.13%
23.20%
TSX Composite Index
2.18%
3.26%
2.20%
0.61%
1.45%
-2.49%
4.82%
-1.79%
2.72%
13.49%
2022
Focused Alpha C
-4.05%
0.41%
3.42%
-3.71%
-0.40%
-7.75%
2.89%
-0.73%
-2.39%
3.60%
6.33%
1.32%
-1.90%
TSX Composite Index
-0.59%
0.13%
3.62%
-5.15%
-0.16%
-9.01%
4.41%
-1.84%
-4.59%
5.32%
5.29%
-5.22%
-8.65%
Standard deviation is a form of hypothetical performance data; Sharpe Ratio, Sortino Ratio and Jensen's Alpha are hypothetical measures of excess return and we assume a risk-free rate of 1.5% in their calculations
This monthly distribution is fixed but not guaranteed and may be adjusted from time to time at the discretion of the fund manager.
The Fund's current annualized yield is calculated based on the most recent monthly distribution assuming reinvestment, divided by the most recent month-end NAV
Portfolio exposures are all calculated as of the most recent calendar quarter-end
This document has been prepared by NewGen Asset Management Limited ("NewGen", "we" or "us"). The information contained herein is not, and under no circumstances is to be construed as, an offer to sell or the solicitation of an offer to buy any securities nor does it constitute a public offering of securities in any jurisdiction in Canada. The information contained herein is provided for informational purposes only and is not intended to be, nor should it be considered as, a complete description of either the securities or the issuer of the securities described herein. 
Commissions, trailing commissions, management fees and expenses all may be associated with mutual fund investments.  Please read the prospectus before investing. Mutual funds are not guaranteed, their values change frequently and past performance may not be repeated.